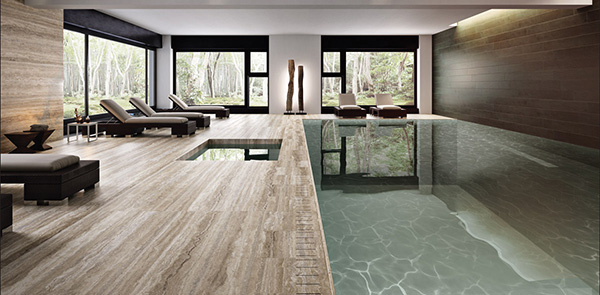 Learning, Friendship and Fun
MaxFine by FMG is a 100% made in Italy technical ceramic slab.
This large (300x150, 150x150, 150x100, 300x100, 100x100, 150x75, 75x75, 75x37.5 cm) and thin (6 mm) tile is both strong and aesthetically appealing. MaxFine is available in 9 collections reproducing marble, natural stone, wood and Corten steel finishes that can be polished, pre-polished or natural (the latter with a strong material effect).
The range has 33 colours.

This opens up an extremely wide array of creative choices for designers combined with excellent technical performance and reduced loads for floors. And they look superb.
The option to lay the slabs with almost no grouting means large surfaces can be covered seamlessly, achieving real homogeneity and visual continuity that highlights the tiled area.

Their durability, lightness and variety of sizes and finishes make MaxFine slabs ideal for many different architectural settings. In addition to the traditional use for tiling and wall cladding in residential and commercial buildings, including in areas of high visitor flows, there are many other potential applications in furniture and design.
For instance, Maxfine can be used to cover table tops, partitions, units and cupboards, but also doors that sit flush with the wall. MaxFine's durability, water-tightness and resistance to chemicals means these tiles are ideal for bathrooms and kitchen counter tops, while their lightness and performance make them excellent for the shipbuilding industry. Outdoors, MaxFine can be used to clad ventilated façades, with two assembly options, depending on the characteristics of the building.