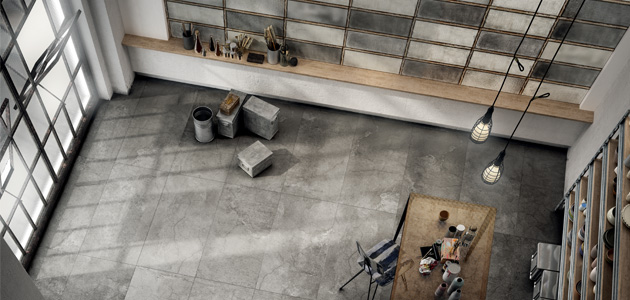 Diesel living con Iris Ceramica
Designed by the Diesel Living Style Office, developed and given concrete form by the know-how of Iris Ceramica's Research and Development Department. A special project to add to the brand's range, designed to underline Diesel Living's unique style vocabulary and add a prestigious touch to floors and walls in residential and commercial spaces designed in an exuberant, bold spirit. Industrial inspiration and metropolitan atmospheres dictate the guidelines for five projects interpreting urban style with Diesel's rock spirit: metallic hues, iridescent colours and material textures recalling resin and concrete dress spaces in the home in the bold style of the people who live in it. Concrete, Industrial Glass, Camp, Stage and Hard Leather are floor and wall coverings exploring five different moods, dialoguing with fabrics like canvas and jute and with finishes with the "lived-in" look of industrial design and a vintage flavour.

SOLID CONCRETE
A hyper-realistic interpretation of concrete in the city, Concrete is both contemporary and lived-in. Cracks, fissures and different shades of colour express industrial inspiration in a bold, explicit style. The intimacy of the home can be dressed in this bold, deceptively simple way.

INDUSTRIAL GLASS
Material power recalling industrial archaeology. Taken out of context, classic outdoor glass and industrial windows come inside and decorate the home, as if they were designed for that very purpose. The pieces fit together to form wall covering panels, including some with metal inserts and craquelé textures, through profiles made of the same material. The panels are made up of units with different textures to create a truly unique overall effect.

CAMP
Powerful ideas transposing the textures of fabrics to create new versions and faithful reproductions. Citations of military style, for people who are familiar with the characteristic Diesel mood and want to bring it into their homes. Camp is cloth, canvas and jute juxtaposed with glazed surfaces like glossy majolica and hard surfaces like stone.

STAGE
Metal - structured, corroded, scratched, covered with patina – is the inspiration for the unusual Boss finish, recalling the non-slip finish on stage constructions and flight cases for transporting musical instruments in a brand new bold and aggressive style. Private and public spaces dressed this way say a lot to about the people who inhabit them.

HARD LEATHER
A cross-cutting concept for dressing spaces with materials such as leather, but made of ceramic. An impeccably balanced combination for creating charming spaces, both intimate and social.